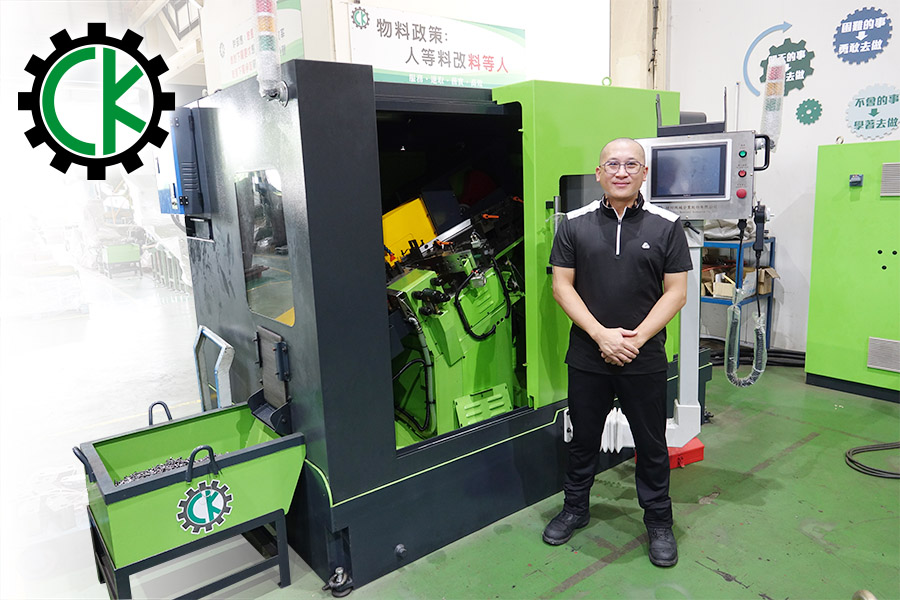 Chien Tsai High-Speed Thread Rolling Machine Upgraded Again Featuring Industry-Leading HMI

Add to my favorite
2023-09-26
STAND NO. AT IFE: 2141
Chien Tsai Machinery Enterprise Co., Ltd. is a leading brand in the design and production of fastener thread rolling machines in Taiwan, serving the industry for 50 years. Over the years, it has continued to penetrate into the main fastener production markets in Europe, America and Asia with its innovative design and customer-oriented service, and has obtained CE certification from the EU. During this year's Taiwan International Fastener Show, it also introduced a new automatic high-speed thread rolling machine, with brand new design and functions to show the world the soft strength of Taiwan manufacturers in fastener machinery design and development.
High-speed, Environmentally Friendly, and Human Machine Interface
In response to the future market trend, Chien Tsai has recently launched a new automatic thread rolling machine, which not only has the ability to roll 350 pcs of 8mm screws per min. (about 1.5 times faster than traditional models), but also is much cheaper than similar models from Europe and the U.S. And, in order to meet the increasingly stringent environmental protection requirements of industrial customers, the machine is designed to be fully covered and a fume extractor is installed to prevent fumes produced during the process from emitting. In addition, the servo motors used are power-saving and environmentally friendly, with power consumption only half that of the general models on the market, and because of the addition of a power meter, even the power consumption of a single screw can be calculated. What's more important, there is also an HMI, which is still rare in the industry. Customers can upload all production data to the cloud platform and synchronize them with the internal system, creating more efficient production and process control.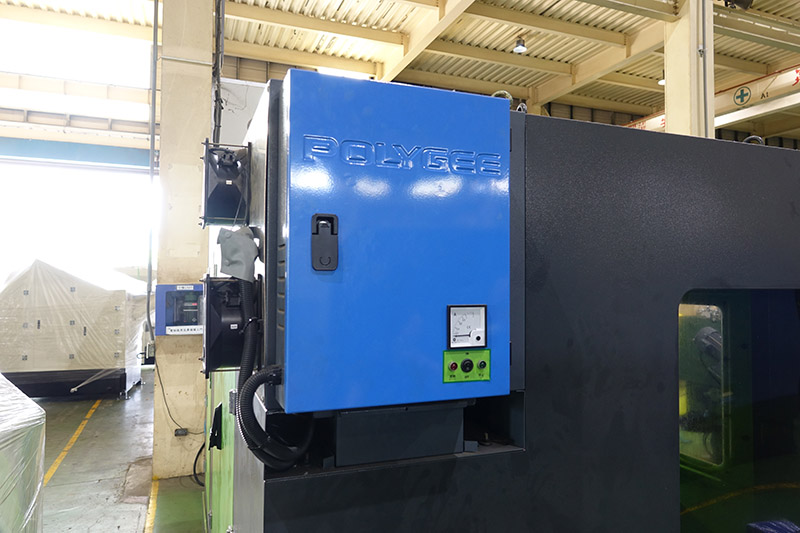 "7 years ago, we started to optimize our machines by adopting the latest Modbus communication mode. Compared with other machines still using the traditional RS-232 industrial communication mode and needing signal conversion, Chien Tsai's machines can reach the direct connection between HMI and computer systems. Which contact point should transfer data can also be customized according to customer requirements (e.g., production data), and a set of standard specifications has been written. In the near future, the ability to master AI technology will determine the competitiveness of manufacturers in the market, so the R&D team is also actively involved in auto machine tuning in order to develop more advanced thread rolling models," said Alex Chen, General Manager of Chien Tsai.
Taiwan and China Locations to Serve Customers;
Targeting European and U.S. High-end Markets
Currently, Chien Tsai has factories in Taipei, Gangshan (Kaohsiung) and Jiashan (Zhejiang). Depending on the market and customer attributes, its Taiwan factories mainly provide higher precision high-speed thread rolling machines, with the Kaohsiung operation as the main manufacturing base, and as many as 60% of the products are exported to foreign markets. The Zhejiang factory mainly provides cheaper models for mass production, with more than half of the products serving the automotive, aerospace, and medical markets in China. In addition, Chien Tsai has a plant in Gangshan specializing in processing and supplying spare parts to its machines, in which it has recently invested nearly NT$200 million to expand, in order to develop more high-end machines and master the core spare parts technology in advance.
"Product R&D is our strength. In recent years, the industry has introduced 2-die 2-blow models, and we have been working hard to develop thread rolling machines that can match the speed of them to help customers improve their processing quality. At the same time, we have gradually shifted our focus from developing countries to Europe and the U.S. The U.S. automotive supply chain is also our focus. Last year we shipped more than 10 sets of large machines to the European and U.S. markets. Nevertheless, we still regard this year's new machine as a transitional product and have set a goal to make all parameter setups meet the requirements of European customers and match with all forming machines on the market within 3 years. Our R&D team of more than 10 people also continues to develop and collect data, and exchange and cooperate with domestic and foreign counterparts, customers and MIRDC in the hope that we can recommend our efficient and high-precision machines to more customers from high-end industries," GM Chen added.
GM Chen: "If You Want to Make 5-star Products, Please Provide a 5-star Workplace".
New Italian Automated Warehousing Systems to be Ready Soon.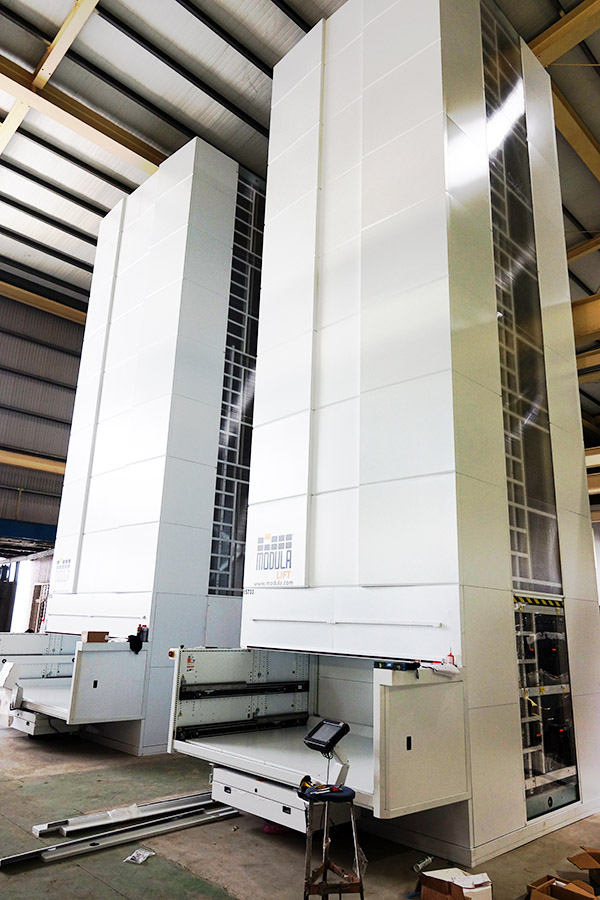 Chen always instills a concept in his employees, "It is a big mistake to make products worse just because customers need cheaper ones." In the early days, Chien Tsai's development was indeed aimed at making profits, but Chen, as a second generation of the company, believes that profits are important, but how to achieve sustainability is even more important. Therefore, in the past few years, Chien Tsai started to build a standardized workplace and produce training videos, and all employees were led by their executives to do together. Through jointly improving the C/P ratios of products to the best, Chien Tsai can win customers' trust and recognition get the trust and recognition and increase its irreplaceability.
"There are good and bad times in the economy, but the demand for fasteners won't disappear. Taiwan is the world's most suitable place to produce fastener machines because of its complete industry cluster. We have started to install automatic warehousing systems in Taiwan and China. With the help of these systems, hopefully we can take a giant leap towards digital automation," said Chen.
Contact: Jinna Wu, Sales Manager / Kai Hsu, Sales Asst. Manager
鍵財
高速搓牙機
機聯網
高速
環保
義大利自動倉儲
Chien Tsai Machinery
Thread Rolling Machine
high speed
environmental protection
Italian automated warehousing system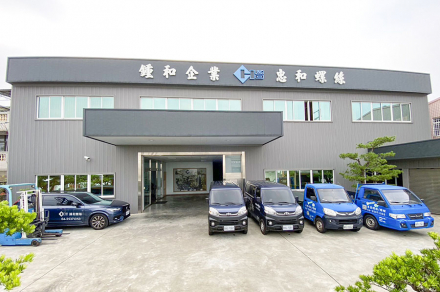 2023-09-27

Subscribe