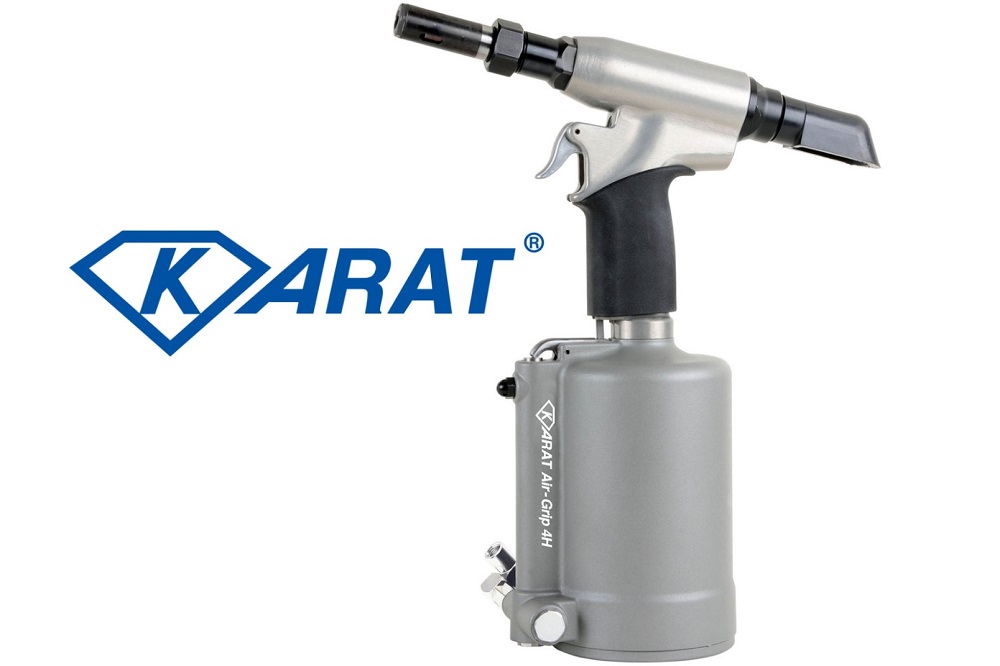 KARAT German-CE Certified Air-Hydraulic Rivet Tools / 1-Year Warranty for Hand Rivet Tools

Add to my favorite
2023-03-29
KARAT is a professional and well-organized manufacturer of Rivet Tools and Rivet Nut Tools in Taiwan since 1982, backed with strong R&D team, advanced lab equipment, reliable production system, strict QA system, and efficient after-service.
KARAT offers a wide-ranging product line for Rivet Tools and Rivet Nut Tools. KARAT is dedicated to presenting new products and upgrading product quality to satisfy the critical requirements from loyal clients. KARAT Hand Rivet Tools and Hand Rivet Nut Tools offer One Year Warranty and have been fully trusted by clients and users for decades, while the KARAT Air-Hydraulic Tools, from the basic professional models to the top industrial models, all have got the 3RD party CE Certification tested and certified by the German TÜV Rheinland to ensure good design and reliable quality.
KARAT
'
s dedication to innovation and quality includes
the
following
new
tools
:
Air-GripTM
2/2V, 3/3V, 4/4V
Series Pneumatic-Hydraulic Rivet Tools
with
different
riveting
capacity,
strokes
,
traction
forces, and without or with vacuum system for the specific applications. All
models feature the unique design for convenient operation.
Air-GripTM
4H
Air Installation Tool
is
approved
by
the
original,
it
can
install different Nose Assemblies to set various Huckbolts and Structural & Standard Blind Rivets
4.0
~
6.4
mm
or
5/32"
~
1/4".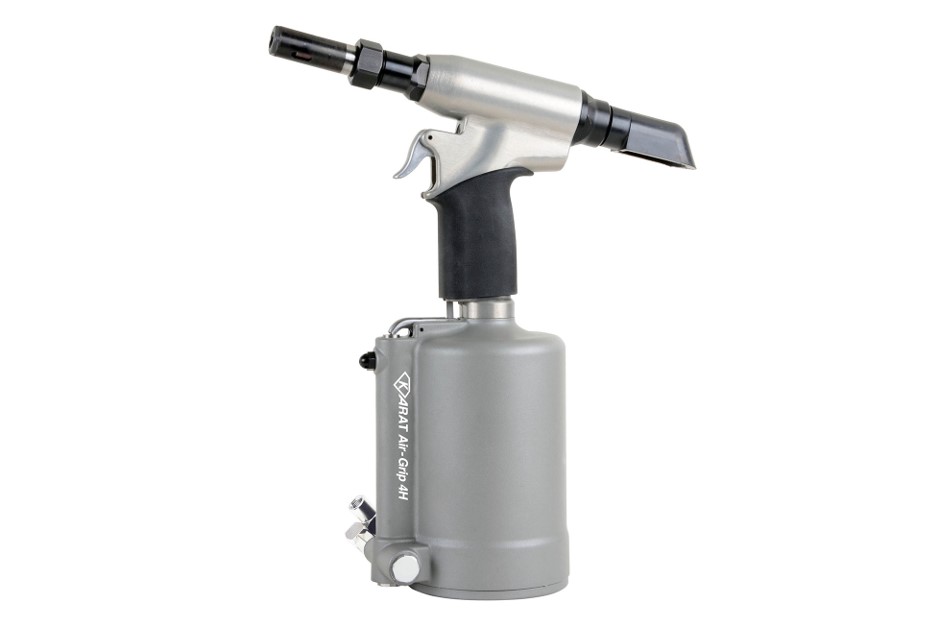 ANS
-120 Air
Rivet Nut Tool
has powerful setting force, adjustable fastening speed control and manual operation of screwing & unscrewing fasteners that can easily set
maximum
M12
or
1/2"
Stainless
Steel
Rivet
Nuts
and
maximum
M8
or
5/16"
Rivet
Bolts
(Studs)
without scratching the painted auto body.
The above models' Hyd
raulic Cylinders
are all
made of high strength Forged
Aluminum Alloy
with heat treatment and the surface
is finished in titanium color, they have robust structure and valuable look.
GH-1,
the First Hand
Installation Tool
in the world,
has super power-saving design that allows hand force to install the included
3 Nose Assemblies for
setting MG Huckbolts 3/6" & 1/4", and Structural & Standard Blind Rivet 4.0 ~ 6.4 mm or 5/32" ~ 1/4".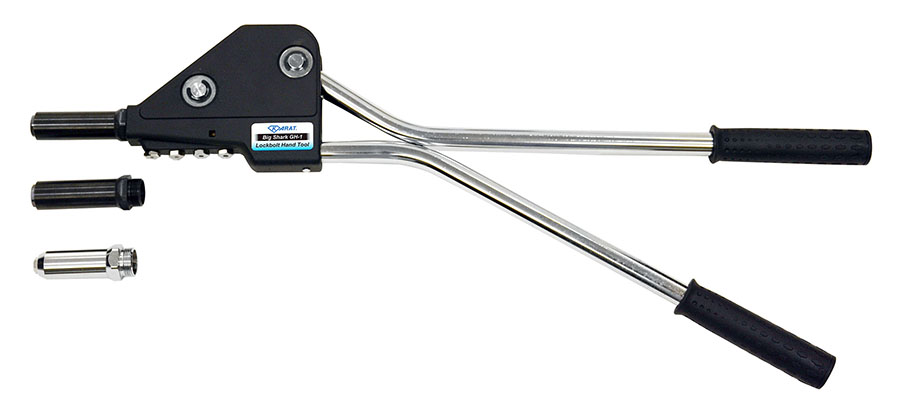 LR-1
Lever
Type
Hand
Rivet
Tool
features the extra-long handles and patented 4-IN-1 design (Spent Mandrel Container + Nosepieces Storage Box + Rivet Size Hole Gauge + Service Wrench Insertion) for easily setting 3.0/3.2 ~ 6.4 mm or 1/8" ~ 1/4" Structural & Standard Blind Rivets and special
BT
7.7 mm Structural
Rivet
simply by
exchanging the BT7.7
Nose Kit.
HRN-4X4
Multiplex
Hand
Tool
Kit
allows
one
tool
to
set 4-size Blind Rivets in
maximum
4.8/5.0 mm or 3/16" + 4 or 5-size Rivet Nuts in maximum M6 or 1/4 + 2 or 3-size Rivet Bolts (Studs) in maximum M5 or #10 + 3-size Jack Nuts in maximum M6 or 1/4" + Preset Slotted Body Rivet Nuts in maximum M6 or 1/4, etc. It is an amazing tool.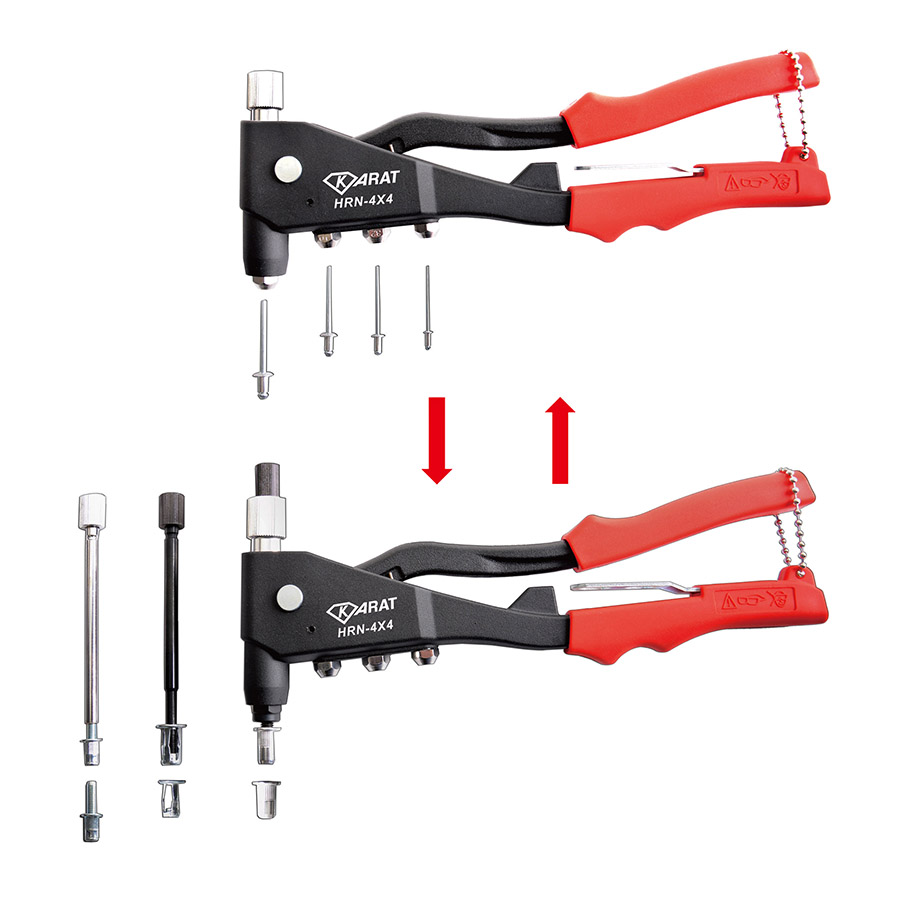 These factors have built a good reputation of
"
German Quality at Taiwan Price"
for KARAT Tools. Therefore, KARAT Tools are 90%
sold to the renowned brands in the USA, Europe and Japan
for the automotive, industrial and construction markets.
Honest, reliability and long-term cooperation are the policies of KARAT. Quality, innovation, performance, warranty and service are the features of KARAT Tools.
Try KARAT Tools once, you will trust KARAT forever!
KARAT contact:
Alan KO, Sales Manager
KARAT
CE
air-hydraulic rivet tools
rivet nut tools
Air-GripTM 4H Air Installation Tool
ANS-120 Air Rivet Nut Tool
GH-1
LR-1
HRN-4X4 Multiplex Hand Tool Kit
2023-03-29

Subscribe