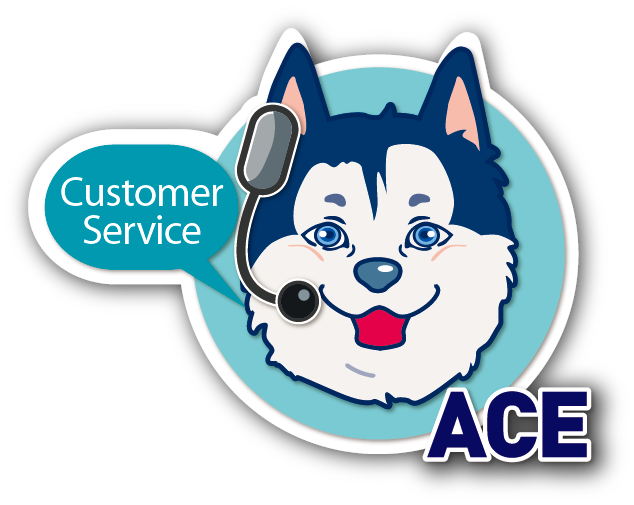 To continue to browse our website will mean that you agree us to use Cookie. We use Cookie to provide our service and carry out analysis and marketing. To further understand how we use Cookie, please refer to our Privacy Policy.
Zhejiang Excellent Industries Co., Ltd.
ZHEJIANG EXCELLENT INDUSTRIES CO., LTD.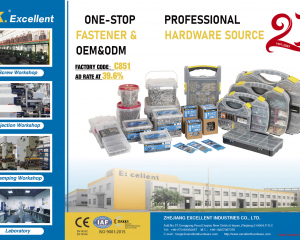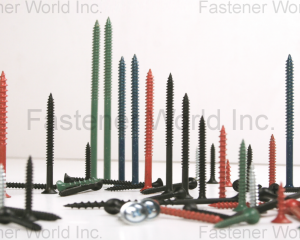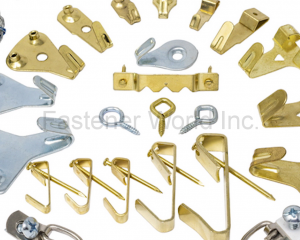 About Company
ABOUT COMPANY


Zhejiang Excellent Industries Co., Ltd.

CHINA

No. 57, Donggang Road, New District, Haiyan, Zhejiang Province, 314304

86-573-89052857 , 86-18257387376

86-573-89052852


MANUFACTURER
Please Login

Zhejiang Excellent Industries Co., Ltd.(Originally Wenzhou Excellent Hardware Apparatus Packing Co., Ltd.) founded in 1997,is located in Haiyan, Zhejiang, only 100km far away from shanghai downtown. It covers an area of 26000 square meters and with more than 150 staff, 32 professional technical personnel.
Excellent is equipped with advanced manufacturing and packaging installations,the equipment from Taiwan specialized in manufacturing screw, daily hardware, electromechanical fittings, all kind of plastic goods like anchors and empty cases etc...We also provide full range of DIY assorment and professional packaging design solution for retailer display purpose.
Excellent has got ISO 9001:2008 management certificate since 2005 and Quality Credit Certification in France.With stable quality, competitive price, good service and beautiful packaging,the products are all shipped to US, Europe, NZ, especially in the DIY Market of US and EU....
Certification
CE、ISO-9001:2015、BSCI、CE 14592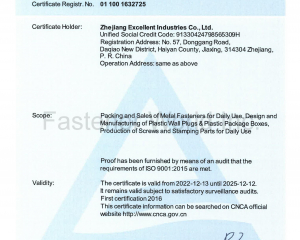 Plants / Machines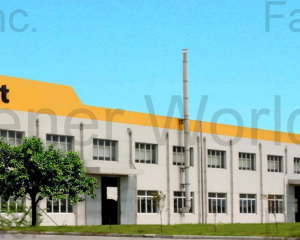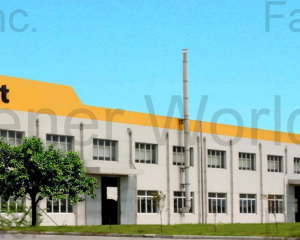 Wood Screws
Coach Screws
Timber Structure Screws
Thumb Screws
Tapping Screws
Overseas Factory / Branch
OVERSEAS FACTORY / BRANCH

天诚实业有限公司

VIETNAM

D4 Street,Song Than 3 Industrlal Park,Phu Tan Ward,Thu Dau Mot City Binh Duong Province



Fang
Please Login
Wood Screws
Washer Head Screws
Timber Structure Screws
Thumb Screws
Tapping Screws
Self-sealing Screws
Self-Tapping Screws
Screws in small packs
Floorboard Screws
Drywall Screws
Deck Screws
Coach Screws
Fastener & Hardware Source
DIY Kits, Anchors, Screws, Bolt Nut & Washers, Rivets, Pins, Hook & Picture Hangers

OEM & ODM
Factory Code: C851
AD Rate at 39.6%
Ads